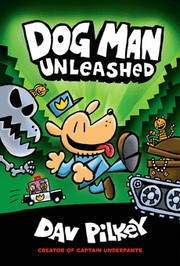 741.5 PIL
Dog Man unleashed
New York, NY : Graphix, an imprint of Scholastic, 2017.
220 p. : chiefly col. ill. ; 22 cm.
"Dog Man ... is still learning a few tricks of the trade. Petey the cat is out of the bag, and his criminal curiosity is taking the city by storm. Something fishy is going on! Can Dog Man unleash justice on this ruffian in time to save the city, or will Petey get away with the purr-fect crime?"--Amazon.com.
No Reading Program: Level 2.5 LG / 1.0 Points / 186901.
Lexile: GN 320L
Reading Level: 3.0
Available
Hardback Book
1 copy available at The Schenck School
| | |
| --- | --- |
| ISBN: | |
| Dewey Class No: | 741.5/973 23 |
| Author: | |
| Title: | Dog Man unleashed / written and illustrated by Dav Pilkey as George Beard and Harold Hutchins. |
| VaryingTitle: | Title appears on item as: Tree-house Comix Proudly presents Dog Man unleashed |
| Edition: | 1st ed., January 2017. |
| Publisher: | New York, NY : Graphix, an imprint of Scholastic, 2017. |
| Physical: | 220 p. : chiefly col. ill. ; 22 cm. |
| Citation/Refs: | School Library Journal, January 2017 |
| Citation/Refs: | Booklist, January 2017 |
| Summary: | "Dog Man ... is still learning a few tricks of the trade. Petey the cat is out of the bag, and his criminal curiosity is taking the city by storm. Something fishy is going on! Can Dog Man unleash justice on this ruffian in time to save the city, or will Petey get away with the purr-fect crime?"--Amazon.com. |
| Target Audience: | |
| Target Audience: | |
| Target Audience: | |
| Study Program: | |
| Subject: | |
| Subject: | |
| Subject: | |
| AE:PersName: | |
| AE:PersName: | |
| Link: | |
| Field | Ind | Subfield | Data |
| --- | --- | --- | --- |
| 001 Control No | | | 17450 |
| 005 LastTransaction | | | 20181018074810.0 |
| 008 Data Elements | | | 160816s2017 nyua c 6 000 0 eng d |
| 020 ISBN | | $a ISBN | 9780545935203 |
| 035 System Ctrl No | | $a System control number | (ICrlF)1076WD |
| 035 System Ctrl No | | $a System control number | (ICrlF)fol17088881 |
| 040 Cataloging Src | | $a Original cataloging agency | ICrlF |
| | | $b Language of cataloging | eng |
| | | $c Transcribing agency | ICrlF |
| | | $d Modifying agency | ICrlF |
| 082 Dewey Class No | 04 | $a Classification number | 741.5/973 |
| | | $2 Edition number | 23 |
| 100 ME:PersonalName | 1 | $a Personal name | Pilkey, Dav, |
| | | $d Dates associated with a name | 1966- |
| 245 Title | 10 | $a Title | Dog Man unleashed / |
| | | $c Statement of responsibility | written and illustrated by Dav Pilkey as George Beard and Harold Hutchins. |
| 246 VaryingTitle | 1 | $i Display text | Title appears on item as: |
| | | $a Title proper/short title | Tree-house Comix Proudly presents Dog Man unleashed |
| 250 Edition | | $a Edition statement | 1st ed., January 2017. |
| 260 PublicationInfo | | $a Place of publication, dist. | New York, NY : |
| | | $b Name of publisher, dist, etc | Graphix, an imprint of Scholastic, |
| | | $c Date of publication, dist, etc | 2017. |
| 300 Physical Desc | | $a Extent | 220 p. : |
| | | $b Other physical details | chiefly col. ill. ; |
| | | $c Dimensions | 22 cm. |
| 510 Citation/Refs | 3 | $a Name of source | School Library Journal, January 2017 |
| 510 Citation/Refs | 3 | $a Name of source | Booklist, January 2017 |
| 520 Summary | | $a Summary, etc. note | "Dog Man ... is still learning a few tricks of the trade. Petey the cat is out of the bag, and his criminal curiosity is taking the city by storm. Something fishy is going on! Can Dog Man unleash justice on this ruffian in time to save the city, or will Petey get away with the purr-fect crime?"--Amazon.com. |
| 521 Target Audience | 8 | $a Target audience note | GN 320 |
| | | $b Source | Lexile. |
| 521 Target Audience | 0 | $a Target audience note | 3.0. |
| 521 Target Audience | 2 | $a Target audience note | 3-6 |
| | | $b Source | Follett School Solutions. |
| 526 Study Program | 0 | $a Program name | Accelerated Reader AR |
| | | $b Interest level | LG |
| | | $c Reading level | 2.5 |
| | | $d Title point value | 1.0 |
| | | $z Public note | 186901. |
| 650 Subj:Topic | 7 | $a Topical term | Police |
| | | $v Form subdivision | Comic books, strips, etc. |
| | | $v Form subdivision | Fiction. |
| | | $2 Source of heading or term | sears |
| 650 Subj:Topic | 7 | $a Topical term | Dogs |
| | | $v Form subdivision | Comic books, strips, etc. |
| | | $v Form subdivision | Fiction. |
| | | $2 Source of heading or term | sears |
| 650 Subj:Topic | 7 | $a Topical term | Heroes and heroines |
| | | $v Form subdivision | Comic books, strips, etc. |
| | | $v Form subdivision | Fiction. |
| | | $2 Source of heading or term | sears |
| 655 IT:Genre | 7 | $a Genre/form data or focus term | Humorous comics. |
| | | $2 Source of term | lcgft |
| 655 IT:Genre | 7 | $a Genre/form data or focus term | Graphic novels. |
| | | $2 Source of term | lcgft |
| 700 AE:PersName | 1 | $a Personal name | Beard, George |
| | | $c Titles associated with name | (Fictitious character), |
| | | $e Relator | ill. |
| 700 AE:PersName | 1 | $a Personal name | Hutchins, Harold |
| | | $c Titles associated with name | (Fictitious character), |
| | | $e Relator | ill. |
| 852 Holdings | 1 | $h Classification part | 741.5 PIL |
| | | $i Item part | PIL |
| | | $p Barcode | 20515 |
| | | $9 Cost | $8.54 |
| | | $a Location | TSS |
| 856 ElectronicLocat | 4 | $3 Materials specified | Cover image |
| | | $u Uniform Resource Identifier | https://covers.openlibrary.org/b/id/7900827-M.jpg |
Editorial Reviews